(Adapted from a Control4 website blog post.)
Around here, the anticipation for the holidays begins as soon as the weather starts to change, and your home should be ready for it. No matter what holiday you're celebrating this winter season, there is plenty that your home automation system can do to help you and your family get into that sparkling holiday mood.
Here are a few tips to turn on the holiday cheer at your home!
–Lawrence, Isaac and Robert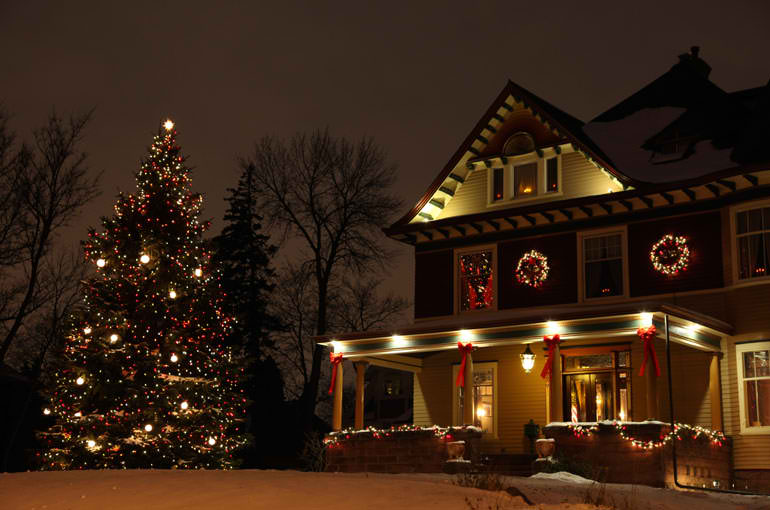 Custom Control Your Twinkle Lights
It is sometimes hard to remember to turn on the decorative lights inside and outside of the house around dusk, especially if you are not home. Ideally, the lights will also be turned off when the family goes to bed, but too frequently they are forgotten and left on all night. In order to avoid these situations, you can pre-set what time you want your lights turned on and off. That way, you don't have to go out into the cold and snow in the middle of the night when you finally remember to turn them off.
Rock the Jingle Bells
Play your favorite holiday music throughout your home whenever you want. You can create a playlist of your own or choose a playlist on your favorite streaming service to pipe through the speakers in your home. Just like the lights, you can use your home automation system to set what time you want the music to play automatically every day and you can choose which rooms to play the music in. You can even use it as an alarm to wake you and anyone else in the house up in the morning.
Protect Your Presents
One of the awesome benefits of an automated home is the added security that comes with it. With a Control4 system, you can go the extra mile with security options by adding smart locks, sensors and cameras, which can "speak" with your system and alert you of any movement or unauthorized access in any location, inside or outside of your home.
An added benefit? Perhaps you have impatient kids trying to locate their gifts before Christmas morning. You can track any movement—like peeking at presents—within the house past a certain time and receive a text message every time certain doors, a particular closet or other hiding spot is accessed. With this protection, your presents will be kept a secret until the day they are opened.
Save Energy with Motion Sensor Magic
The holiday season is a magical one, and home automation allows many holiday dreams to come true, especially if your dream this holiday season is to save money on energy bills. Home automation can help you do this with motion sensors. Don't waste any energy on your lights, music, or model train if no one will see them. Motion sensors can automatically detect when people are or are not in the room, and turn off any electronics if it does not sense any motion within the room.
Control Temperature for a Cozy Home
Keep your home warm and toasty with home automation. The temperature indoors can automatically adjust to your preference according to the temperature outside. You can also turn the heat off when you leave the home and turn it back on from an app on your phone before you walk through the door in order to ensure that you don't come home to a freezing house.
Enjoy Your Decorations
Enjoy your fire, collection of nutcrackers, and mistletoe without the rest of the neighborhood peeking into your home. During the day, you may want to leave your shades open to see the sun and snow outside. But once the sun goes down, the shades will close to give you the privacy you deserve. Home automation makes opening and closing your shades on a daily basis a much simpler task. With the push of a button, your shades can automatically open or close. You can even pre-set them so that they automatically open as the sun rises and close as the sun sets.
Happy Holidays from all of us at Home System Solutions!
At Home System Solutions, we take pride in being Central Oregon's leader in smart home automation, theater and entertainment. Let us help you make your dream home future-ready. Contact us by email or call 541-610-7915.