Take control over securing your home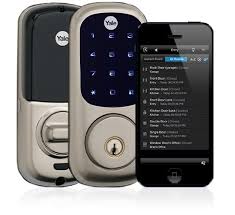 Sure, home automation can be sexy. Push a button and the lights dim, the shades drop, the music starts on your surround sound, as you settle in to watch a movie in your home theater. We won't lie—we love high-end home entertainment systems!
However, for many homeowners, home automation can provide security and peace of mind and an automated door locking system is a great place to start. There is comfort and practicality in installing automated door locks and Control4 offers excellent smart home systems that integrate quality locks. Read a bit about what we think are some great benefits to smart locks.
–Lawrence
Lock and unlock from anywhere.
Did you forget to lock the door when you left? Maybe you've had one of those hectic days where you just can't remember. Automating your home locks allows you to remotely check your locks and lock or unlock your doors whenever you want. Whether you are at your office or at the airport starting your vacation, you can make sure your home is secure.
Have a smart garage door.
Leaving a garage door open is so common, especially if it is in the back of the house. With smart locks, you can set it up so you are alerted if the garage door is open when you leave.
Be key free.
Did a family member lose their keys AGAIN? All of the Control4 compatible door locks have keypads or capacitive touch screens where you enter your unique access code. This is great for families with kids and teenagers that tend to lose things more often!
Let the right people in, at the right time.
With automated door locking systems, you can control access to your home for different people. Your housecleaner can have one code to get in, and your mother-in-law can have a different code. This helps you to allow access to certain people only at certain times. For instance, you can set it so that your cleaning crew can only have access between 2:00pm and 4:00pm on Wednesdays, while you are at work.
Enter with ease.
It seems like 80% of the time I enter my house, my hands are full—groceries, gear, you name it. So, I have to put down all of my things to turn the lights on inside. With automated door locks, you can have the lights turn on when the door is unlocked, leaving you able to enter with all of your stuff. And if you need a little jazzy tune whenever you enter your home, you can set it up to play music!
Keep tabs on people entering and leaving your home.
Now when your teenager swears that he got home by his curfew time, you can double check your door lock history to confirm.
Hear your doorbell anywhere.
Control4 has an added package where the ring of your doorbell can play notifications throughout your home—even on the back patio.
Change and share the access code as needed.
Automated lock systems make it easy to change the code as much as you need to. This is great for vacation rentals or Airbnb's, where you have new people coming and going on a regular basis.
Secure your home with one touch.
Put your house to sleep securely with one touch of one 'Goodnight' button. And sleep well knowing that your home is safe and secure.
At Home System Solutions, we take pride in being Central Oregon's leader in home theater, entertainment and automation. We offer beautiful custom design, installation, and calibration and programming for home theater, surround sound, media rooms and full home automation and surveillance. Contact us by email or call 541-610-7915.