A true home theater is not just a room with a television and surround sound. It is an experience. At Home System Solutions, we love working with our customers to provide a state-of-the-art home theater experience that can be enjoyed by everyone. Proper lighting, surround sound, cushy furniture and finishing touches can all make a home theater a wonderful addition to your home.
In this day and age, there are many choices for screening movies and television shows, and we often get the question: Should I get a flat screen television or a projector and screen? Here we talk a little bit about projectors and outline the pros and cons of installing a projector and screen for viewing movies.
Need help? We are here to help you have the perfect home entertainment system for your needs!
–Lawrence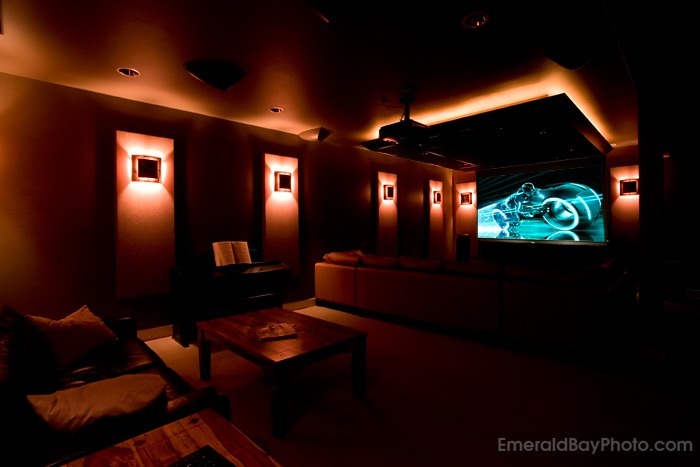 Projector Basics
Front projection is a two-piece system: a projector that creates the image, and a screen that reflects it. Projectors today are compact and lightweight and can even be portable if you want to use them in different places. You can place a projector on a coffee table, hidden on a bookshelf or go pro-style and mount it on the ceiling. Projectors deliver the largest images for home theater and can be a better value if you think of it in terms of cost per inch of screen.
Projector Pros
Size and Format.
This is the most obvious reason many people go with the projector option. Flat screen HDTVs can be cost prohibitive beyond 85" measured diagonally. Imagine a 10 to 12-foot wide screen for viewing the new Star Wars movie! With the right set up, you can be watching movies as the filmmaker intended, immersed in the drama and action. This includes extra widescreen anamorphic formats that eliminate black bars on most movies!
Image quality and ease of viewing.
A big projector screen is actually more comfortable to watch as it fills a larger percentage of your visual field, and has less overall brightness. Additionally, reflecting light off a white or gray screen is less fatiguing than the direct projections of light produced by LED TVs. Alongside high-definition, you can also buy 3D projectors as well as 4K UHD projectors to give you the ultimate viewing clarity.
Cost.
Like all technology, the cost of a projector can range, depending on quality and performance. However, getting a good quality projector does not necessarily cost more, and many of them can be in the same price range as a high-end flat screen television.
Flexibility.
Projection screens can be permanent or be retractable and can disappear into the ceiling when not in use, allowing the room to be used for other purposes, or an extra clean hidden installation. You also don't necessarily need that large of a room to use a projector. "Short throw" projectors are designed in such a way that they can be slotted up against any wall and project an image directly above below itself – resulting in greater flexibility with space.
Wow Factor.
With a projector, you are investing in a genuinely designed home theater system that delivers an experience like a movie theater—but you get to choose your audience of family and friends.
Projector Cons
Light.
Simply put—you need a very dark room to use a projector. No matter how bright the projector, and no matter how clever the screen material, any amount of ambient light is going to wash out the image. You have to have a very dark room, so projectors are great for a basement set up or if you have very dark, light blocking shades on any windows.
Lamps.
Most projectors use a UHP lamp, which lasts a few thousand hours, but costs a few hundred dollars to replace. Some projectors use LED lamps, but still need replacement after a few years.
Installation.
Setting up a projector and screen is best when professionally installed. Room dimensions, screen size, seating and projection angle all influence selecting a projector and screen and their placement. Guess what—we can help with this!
What's the verdict? When deciding on whether you want a television screen or a projector, the biggest considerations are price, lighting and installation. However, the experts all agree that for watching high quality movies, a projector will give you the best experience of a true home theater.
At Home System Solutions, we take pride in being Central Oregon's leader in smart home automation, theater and entertainment. Let us help you make your dream home future-ready. Contact us by email or call 541-610-7915.