Father's Day is just around the corner! Happy day for all the dads out there! In celebration of you, we thought we'd talk a little bit about the Man Cave.
The Man Cave has become about as American as baseball and apple pie. But the modern Man Cave is more than just a room with album cover posters, neon beer signs and a ratty old sofa for lounging. A proper Man Cave takes a lot of planning and sometimes a little creativity.
Keep in mind that while we say "Man Cave", what we really mean is a room specific to entertainment. You can call it the Lady Lair, Babe Cave or a straight up Rec Room. Toss those posters, get rid of the moldy beer fridge and go big on the Man Cave with these home automation ideas.
Go For a Custom Theme
Different activities call for different lighting, music and other settings to create the right mood and atmosphere. A custom button like "Martini Hour" could turn on the lights over the bar, power up the vintage lava lamp and start playing your favorite mellow jazz playlist. A "Go Team" button can play your team's theme song and flash your team colors in hidden LED rope lighting. And you can also stick with one décor theme such as NFL or Star Wars movies. We recently completed a Man Cave with a "drive-in" theme, complete with full wall mural.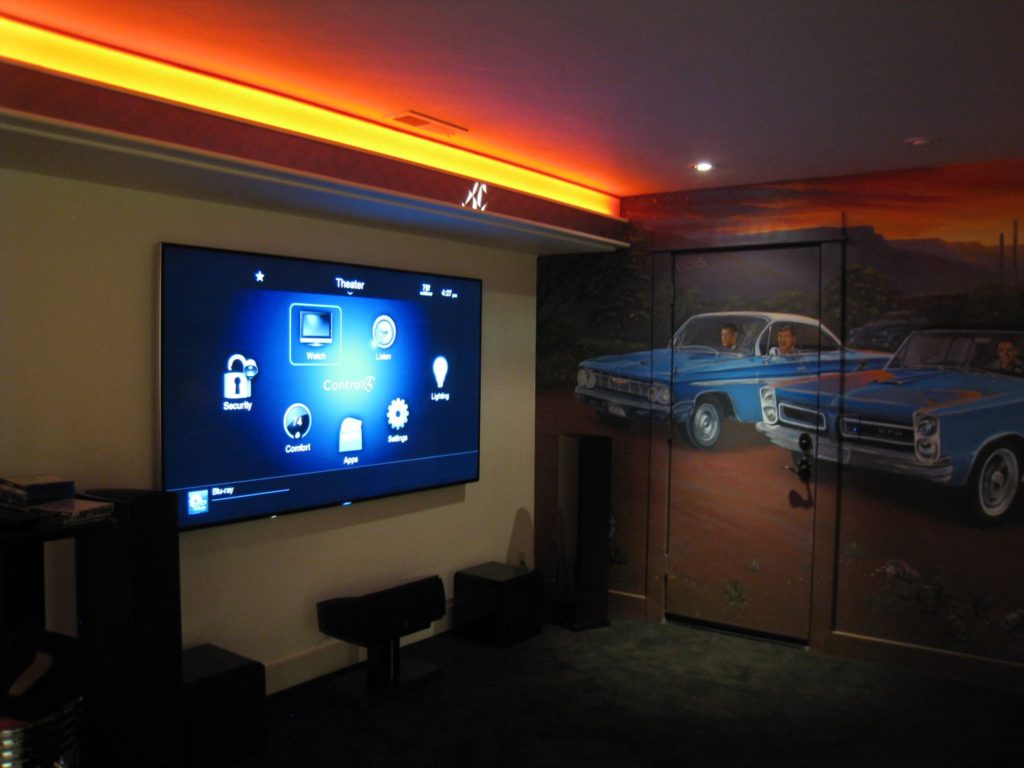 Play With Lighting
The ultimate Man Cave has more than a big screen TV. It can have vintage pinball games, a pool table, a drum set. You name it. Different lighting scenes can set the mood for any specific activity—movie watching, drinks at the bar, or a game of pool. And as an added convenience, you can create an "All Off" button to include a 15-second delay, so people can head down (or up) the stairs before the lights begin to dim.
Install an Intercom
If the kids have taken over the Man Cave, you can tap a touch screen in the kitchen and see what the little gremlins are up to, as well as remotely control what the kids are watching or what game their playing. And you don't have yell downstairs when it's time for dinner.
Smarten Up Your Locks
If you want to keep your kids out of the Man Cave during school homework hours, skip the old school key. With a smart lock, you can restrict access to certain times of the day. You can also unlock or lock the door from a smart phone without having to leave your post at the kitchen table. A smart lock system can also be programmed to do practically anything whenever a code is entered.
Are you planning for a Man Cave or Lady Lair? We can transform your basement, extra bedroom or upstairs hang out zone into a full, fun place for you and your friends and family.
Home System Solutions takes pride in being Central Oregon's leader in smart home automation, theater and entertainment. Contact us to visit our Bend showroom or get an initial consultation. Email us or call 541-610-7915 for more information.